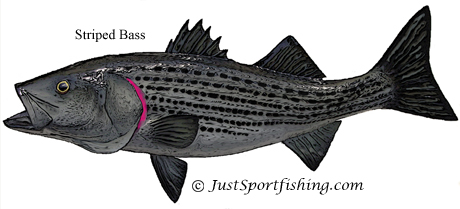 How to fish for Striped Bass
Striped Bass are found mostly in saltwater but can be found in both brackish and freshwater. The Striped Bass can be found along coastal inshore waters around piers, jetties, rips, surf troughs, and rocky outcrops. The Striped Bass can be found along the Atlantic coast from the St Lawrence River to the gulf of Mexico. The Striped Bass is a opportunist feeder that has a diet of mostly small fish such as herring, menhaden, flounder, alewives, silversides, eels, and smelt. Their diet also can include squid and crabs.
While anglers have caught many Striped Bass with weights of 30 to 50 pounds, the majority of angler caught Striped Bass are only 5 to 10 pounds. Light to medium tackle is all that is usually required when fishing for striper. A spinning or baitcasting reel with a 6 to 7 foot medium action rod. Your fishing reel should be spooled with 15 lb. test mainline and at the end of your mainline tie a barrel swivel, then tie 3 to 4 feet of 25 lb test leader to the other end of the swivel. Tie a Striped Bass lure at the end of your leader, these are some of the more popular Striped Bass lures Surface Tension Lure, CC Bunker, Apollo Swimmer, Floating Apollo Popper, Gibbs Polaris Popper, Gibbs Casting Swimmer Lures, Gibbs Canal Special, The Hogy, The Hogy Quick Rig, Stetzko NeedleFish Lures, Aluminum Dart Lures, Stetzko Lures Mr. Wiggly, Stetzko Lures Nauset Popper, Handmade Wooden Guppy Lures. Many of these lures can be trolled or cast. If trolling is the method then a trolling speed of 2 to 4 knots should be sufficient but the trolling speed should be matched to the proper action of the lure.
Striped Bass fishing lures can be productive any time of the year, especially at dawn and dusk.
Surfcasting is another popular and successful method of fishing for Striped Bass. This can be done with baits such as herring, mullet, or eels. Some anglers have had moderate success with fly fishing also using such flies as Lefty's Deceiver, Clouser Deep Minnow, Jiggy Flies, Peanut Bunker Flies, poppers, and Surf Candy Flies. Many anglers add scent to both flies and lures as Striped Bass are believed to have an acute sense of smell.