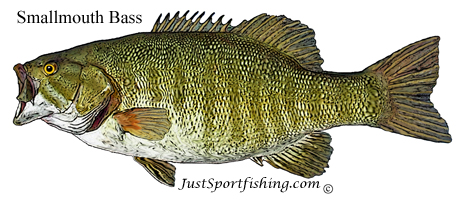 How to fish for Smallmouth Bass
Smallmouth bass originally ranged north into Minnesota and southern Quebec, south to the Tennessee River in Alabama and west to eastern Oklahoma and southwestern Arkansas. Today there are few states, east or west of the Rocky Mountains, where populations have not become established. Smallmouth have also been introduced to Asia, Europe, and Africa.
The Smallmouth bass is a warm-water fish species, usually found in rocky and sandy areas of lakes and rivers in moderately shallow water and near rocks of shoals or submerged logs. It is less often associated with dense growths of aquatic vegetation than the largemouth bass. Smallmouth bass feed mainly on insects, crayfish and small fish. The Smallmouth bass takes this variety of food from the surface, in the water column, and off the bottom.
For Smallmouth bass use a 6 to 7 foot medium action graphite rod and a matching spincasting reel that is spooled with 6 to 8 pound test fluorocarbon line. To cover large areas of water, diving crankbaits like Cotton Cordell's Rattlin Spot and the Rapala Shad Rap in silver or crawfish patterns are quite effective. When fishing shallow rock shoals, white and yellow spinnerbaits as well as shallow diving crankbaits have proven deadly. In deeper waters, a ¼ to ½ oz jig head tipped with chartreuse, yellow or white Mister Twister grubs are also effective. Slowly bouncing these jigs off rocky bottoms can result in bites. In late summer or early fall fish deep water in the 30 to 40 foot depth range and bounce a worm colored Tub Jig off the bottom.