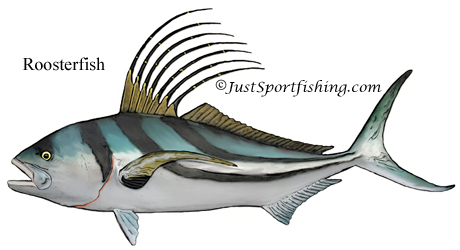 Roosterfish
World Record ~ 114 Lbs. Caught at La Paz, Baja Calif., Mexico on June 1, 1960 By angler Abe Sackheim
Scientific name ~ Nematistius Pectoralis
Other names ~ Rooster fish
Identification ~ The Roosterfish has seven long threadlike dorsal spines (comb)that stand erect when the fish gets excited or threatened. The roosterfish has two dark curved stripes on the body and another dark stripe across its head. The roosterfish also has a large dark spot at the base of the pectoral fin.
Size ~ Roosterfish can have a length of 4 feet and exceed a hundred pounds.
Habitat ~ These fish inhabit sandy inshore's and near shore areas. They also linger around near shore reefs.Roosterfish patrol the shoreline searching for schools of bait fish. The Roosterfish can be found from southern California to Peru
Feeding Habits ~ The Roosterfish is known for chasing bait for long distances sometimes trying to herd the bait fish towards a reef or beach. Roosterfish eat small fish such as mullet and sardines.