---
Donate to JustSportfishing.com and help to build the largest fishing information site on the web. Even a dollar or two will keep us building this free site.
---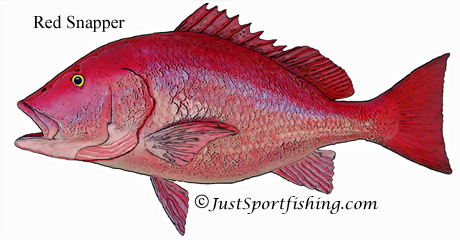 Red Snapper
World Record ~ 50 Lbs 4 oz. In the Gulf of Mexico, LA on June 23, 1996 by angler Capt. Doc Kennedy
Scientific name ~ Lutjanus Campechanus
Other names ~ American Red Snapper, Northern Red Snapper, Mutton Snapper
Identification ~ The color of the Red Snapper can be pinkish, scarlet, or deep red with a whitish belly. The Red Snapper has a long triangular face with upper margin sloping more strongly than the lower; jaws are equal or the lower slightly projecting; some enlarged canine teeth.
Size ~ Most of the angler caught Red Snapper are 18 to 24 inches in length and weigh 20 pounds or less. Occasionally anglers can catch Red Snapper up to 35 pounds and 3 feet in length.
Habitat ~ The adult Red Snapper lives offshore on the continental shelf, over deep reefs, banks, and rocky bottoms. Populations residing amongst such three-dimensional structures are usually larger than those in smooth bottom areas. Adults of this species are found at depths of 33-620 feet with older, larger fish tending to prefer the cooler, deeper spots. This snapper is found in the western Atlantic Ocean, from Massachusetts to Brazil, although it is uncommon north of the Carolinas. It is also occurs in the Gulf of Mexico.
Feeding Habits ~ The Red Snappers diet consists of prey including shrimp, squid, and octopus. Red Snapper also feed on a variety of smaller fishes, crustaceans, and mollusks, which they find in flat bottom areas adjacent to the reefs.