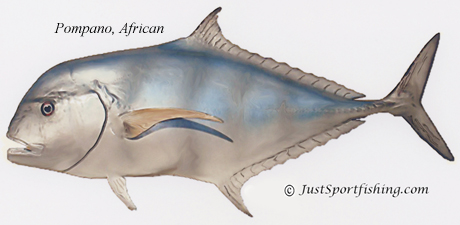 How to fish for Pompano
The African Pompano is a widely distributed in tropical waters worldwide, with adults often inhabiting coastlines. The African Pompano lives in depths of less than 300 feet and feeds on crustaceans and small fish. The African Pompano prefers coastal waters with a temperature range of 65 to 80 degrees Fahrenheit.
African Pompano can be caught by jigging deep in the vicinity of wrecks or offshore drop-offs with spinning, bait casting tackle or light ocean tackle and live bait. A variety of heavy jigs and large streamers will work especially if trimmed with silvery Mylar. Pinfish, Pilchards and similar small fish are the live baits of choice.
Many fishermen prefer fishing with light tackle such as a 7 to 9 foot medium action 12 to 20 Lb rod with a medium sized spinning reel that will hold 300 yds of 15 to 20 Lb braided or monofilament fishing line. A 30 Lb mono leader that is 2 to 3 feet long should be attached to your mainline with 40 lb swivel. At the end of your leader tie on a size 2/0 or 3/0 live bait hook. Prime baits for African pompano include pinfish, pil- chards, cigar minnows and goggle-eyes. Stick to small live bait and just enough lead to get down near the bottom. It's best to work your bait immediately above the wreck structure or slightly off to the side. You can rig bait on an appropriately sized jig. Just make sure the jig is white or yellow. African pompano are suckers for a jig-and-bait combination. If you cant get live bait try shrimp.