---
Donate to JustSportfishing.com and help to build the largest fishing information site on the web. Even a dollar or two will keep us building this free site.
---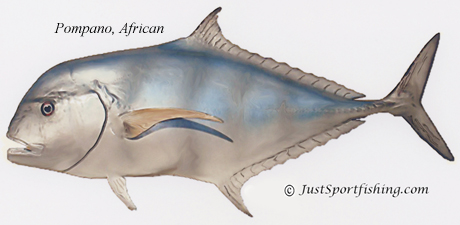 Pompano (African)
World Record ~ 50 Lbs 8 oz. at Daytona Beach, FL on Apr. 21, 1990 by angler Tom Sargent
Scientific name ~ Alectis Ciliaris
Other names ~ Cuban Jack, Atlantic threadfin, Pennantfish, Threadfin Mirrorfish, Trevally
Identification ~ The African Pompano is characterized by its silver, highly compressed body with a light blue tinge and a steep rounded forehead with a blunt snout. It has high anal fin and dorsal fin front lobes with very long anal fin and dorsal fin rays, which diminish with age, an arched lateral line, long curved pectoral fins, and no rear finlets. The body is scaleless.
Size ~ It is reported to reach a length of 5-feet but are normally in the 18 to 24 inch range. Most angler caught African Pompano are between 20 and 30 pounds.
Habitat ~ The African Pompano is found in the first 200 to 300 feet of the water column over sandy bottoms adjacent to or over to rocky reefs. They can also be found around wrecks or underwater structures. The African Pompano is found worldwide in tropical seas. Western Atlantic: Massachusetts, USA and Bermuda to Santos, Brazil; throughout the Caribbean Sea and the Gulf of Mexico. Eastern Atlantic: Senegal to Congo.
Feeding Habits ~ African Pompano feed on slow moving crustaceans , small crab, and occasionally small fish.