---
Donate to JustSportfishing.com and help to build the largest fishing information site on the web. Even a dollar or two will keep us building this free site.
---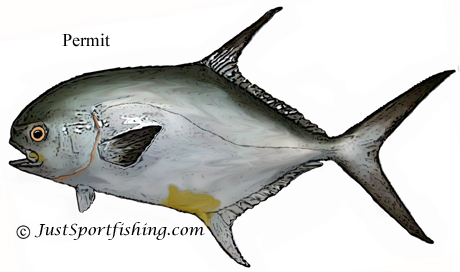 Permit
World Record ~ 56 Lbs. 2 oz. Caught in Ft. Lauderdale, FL on June 30, 1997 by angler Thomas Sebestyen
Scientific name ~ Trachinotus Falcatus
Other names ~ Permit Fish
Identification ~ Permit have bright silver sides and bluish-green or brown backs. The belly will sometimes show yellow or an occasional black splotch. The fins appear dark gray or black. The deeply forked tail and elongated anterior dorsal fin provide the more distinct characteristics of the permit. However, one can also identify the permit by its highly laterally compressed body, making the fish appear thin and tall. From a lateral perspective, the permit shape looks round in juveniles, but becomes oblong as the fish ages into an adult.
Size ~ Permit can reach a weight of over 50 pounds and a length of 45 inches, but the angler caught Permit is usually 1 to 3 feet and 25 pounds or less.
Habitat ~ Permit primarily occupy inshore regions such as flats and sandy beaches, and deeper cuts, channels, and holes adjacent to these areas. The substrate of the flats may vary from sand, mud, marl, or sea grass. Permit often swim in water depths less than 2 feet, though due to large body depth, large individuals cannot occupy waters as shallow as other flats species such as bonefish. In deeper waters up to 90 feet, permit often gather around structures such as reefs, jetties, and wrecks where they frequently occur in large schools.
Feeding Habits ~ Permit feed on mollusks, and crustaceans such as crabs, shrimp, and sea urchins.