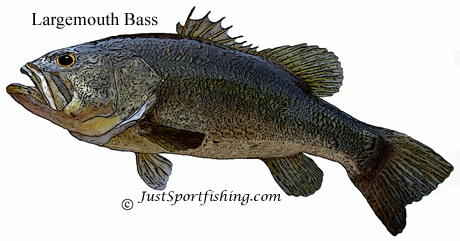 How to fish for Largemouth Bass
Largemouth Bass are native to the eastern half of the United States but have been stocked widely in all of the continental United States and southern Canada. Largemouth bass have also been introduced to many parts of the world including Europe, Asia, Central America, South America and the Caribbean. Largemouth Bass are commonly found in shallower waters closer to shore in shallow weedy lakes, backwater areas of medium and large rivers, ponds, canals, and reservoirs . They are most commonly found associated with heavy growth of vegetation, soft bottoms, and various cover such as stumps, trees, water lilies, and cattails. The Largemouth Bass can tolerate a wide range of water temperature but is most active in water that is 65F to 80F. Most Largemouth Bass caught by anglers are under 2 pounds, but Largemouth up to 5 pounds are not uncommon. Largemouth bass are fighters when hooked and will often become airborne in their effort to throw the hook.
For Largemouth a 6 to 7 foot medium to medium-heavy graphite rod with a matched anti-Reverse bait casting reel spooled with 6 to 8 lb test if the Largemouth Bass are at the edge of the weeds or structure. If the Largemouth are in heavy weeds or cover spool your reel with 8 to 12 Lb test, this will help getting them out of the weeds without breaking your line.
Largemouth Bass fishing consists of many types of lures and soft plastics. These are top water baits, spinner baits, and soft plastic lures. Largemouth Bass are opportunistic feeders with a wide variety in their diet. This means that they will also take a wide variety of baits and lures. Some of the better producers are soft body lures such as worms, grubs, frogs, minnows, flipping tubes, or crayfish. These soft lures can also come scented. Spinner baits are also top producers these include such lures as Booyah's Bassinator Spinnerbaits, the Strike King Bottom Dweller Spinnerbait, Sworming Hornet's Fish Head Spin Jigs, Enticer Pro Rattling Jig, Stacey's Flip'n Jig, and the Strike King Bleeding Bait Spinnerbaits. Topwater lures include the Xcalibur Xz2 Zell Pop Hardbaits, Arbogast Jitterbugs, Heddon Lucky 13, Rapala Skitter Prop, and the Luhr Jensen Nip-I-Diddee Classic Lures. When retrieving your lures mix it up until you find what is working. A method of fast retrieval or fast and jerky can usually entice a bite. If these don't work then try a medium retrieval with a short pause every 3 to 4 cranks of the reel.