---
Donate to JustSportfishing.com and help to build the largest fishing information site on the web. Even a dollar or two will keep us building this free site.
---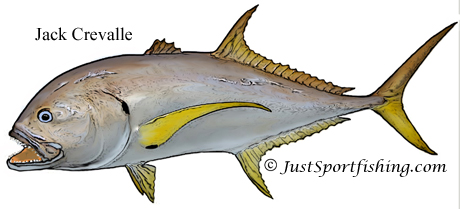 Jack Crevalle
World Record ~ 58 Lbs 6 oz. Caught at Barra do Kwanza, Angola on Dec. 10, 2000 by angler Nuno A.P. da Silva
Scientific name ~ Caranx Hippos
Other names ~ Crevalle Jack, Black Cavalla, Blacktailed Trevally, Caballi, Cabalo, Common Jack, Couvalli Jack, Crevelle Jack, Green Jack, Horse Crevalle, Horse Mackerel, Horse-eye Jack, Kingfish, Trevally, and Yellow Cavalli
Identification ~ The crevalle jack is greenish-bluish or bluish-black above and silvery white to yellowish or golden below. The body is deep with a high, rounded profile. The mouth is large. There is a prominent black mark on the gill cover and another on the pectoral fin. The fins may be yellowish.
Size ~ The Jack Crevalle can reach 40 inches and 55 pounds, however the angler caught Jack Crevalle is usually 3 to 5 pounds and 18 to 24 inches. In some areas 10 pound Jack Crevalle can be caught with some regularity.
Habitat ~ The Jack Crevalle ranges mainly on the coastal areas of the western Atlantic Ocean from Novia Scotia to Uruguay. They also often are found throughout the Gulf of Mexico, especially along the coast of Texas and the west coast of Florida. Both adults and juveniles are usually found in schools. However, larger individuals may be found swimming the waters alone.The Jack Crevalle is found in oceanic and estuarine environments. Adults usually occupy upstream currents, reefs, offshore areas or shallow inshore areas. Jack Crevalles live in a variety of temperatures and salinities.
Feeding Habits ~ Adult Jack Crevalle prey upon on a variety of fish, shrimp and invertebrates.