---
Donate to JustSportfishing.com and help to build the largest fishing information site on the web. Even a dollar or two will keep us building this free site.
---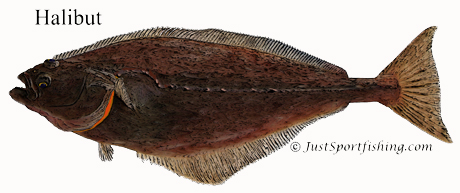 Halibut (Pacific)
World Record ~ 459 Lbs Caught at Dutch Harbor, AK on June 11, 1996 by angler Jack Tragis
Scientific name ~ Hippoglossus Stenolepis
Other names ~ Giant Halibut, Northern Halibut, Hali, barn door
Identification ~ The body of the Pacific halibut is elongate, rather slender, diamond shaped and compressed. The width is usually about a third of the length. The head is elongate and the mouth is large. Both eyes are on the right side of the body. The color of the body is dark brown to black with fine mottling on the eyed side and white on bottom side.
Size ~ Halibut can weigh over 500 pounds and grow to 9 feet. Males are smaller than females seldom achieving more than 90 pounds. The typical angler caught Halibut is from 10 to 60 pounds.
Habitat ~ Juveniles (1 inch and larger) are common in shallow, near-shore waters 6.5 to 164 feet deep in Alaska and British Columbia. Fish move to deeper water as they age, and migrate primarily eastward and southward. Coastal waters of the northeast Pacific from northern California to the Gulf of Alaska to the Aleutian Island chain and into the Bering Sea, with a center of abundance around Kodiak Island.
Feeding Habits ~ Juveniles consume small crustaceans and other benthic organisms. Mature halibut prey on cod, pollock, sablefish, rockfish, turbot, sculpins, other flatfish, sand lance, herring, octopus, crabs, clams, and occasionally smaller halibut.