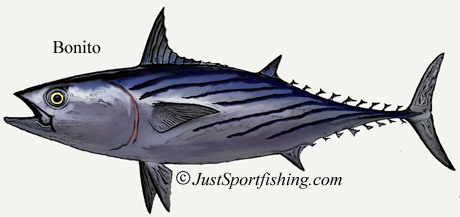 How to fish for Bonito Tuna
Bonito Tuna are excellent fighters and, once a school is aroused, they will viciously attack a variety of lures and baits. Most Bonito are taken by a using a combination of trolling and live bait fishing methods. Schools of Bonito are often found by trolling and, once located, live bait fish or lures can be used while drifting nearby to catch even more fish. Bonito are generally found offshore in 300 to 600 feet, but can also be encountered in the vicinity of kelp beds and inshore nearer the surface. When trying to locate surface feeding Bonito Tuna look for birds circling and diving. This is an indication that a bait ball is at the surface.
Bonito are not picky eaters but are aggressive feeders. A school of Bonito surface feeding can cause quite a disturbance crashing a school of baitfish during a feeding frenzy. The best live baits to use for Bonito are either anchovies or sardines. Mackerel, pilchards, herring, or butterfish will also work.
When rigging up your live bait for Bonito Tuna double up your line of 12 to 18-inches with either a Bimini Twist or Spider Hitch. Tie a 12-ft. length of 30 to 50lb. mono to the double line with an Albright Special. Then tie a 4/0 to 7/0 hook to the other end of the mono leader using an Improved Clinch or loop knot.
When the time comes to place a hook in the bait certain procedures have to be followed. It is done in various ways with the goal mainly to keep their scales intact and to keep them as lively as possible, so do not squeeze them. The most popular way to live hook anchovies and other live baitfish for Bonito is the nose hook. The hook is inserted from the bottom of the jaw up through a point mid way between the eye and the tip of the nose. The main objective is to keep the penetration towards the tip of the nose. Insertion near the eye will immediately kill the bait. Nose hooking allows you to pump the bait back in a tantalizing way, which will attract the aggressive feeders to your bait.
If using lures for Bonito try casting out a Krocodile-style chrome spoons, small Rapalas, Yo-Zuri's Bonita, or medium weight surface metal in a blue and white or chrome. Do this when Bonito are at the surface in a feeding frenzy.
Light tackle is the word for fishing Bonito. Fast action 7-foot spinning rod combos in the 8-17 Lb. class are best suited for this application. These rods allow you to make long, accurate casts with a variety of natural baits and lures while still providing the backbone you'll need to bring the Bonito to the boat. When buying light tackle for Bonito Tuna smooth drags and spools with large line capacities are a must. The strength of braided lines and their smaller diameter allow for more line to be spooled compared to the same strength monofilament line. Bonito Tuna can make large initial runs so my choice would be 15 Lb braided line on a large spool.
Fly fishing is gaining in popularity using a 6-8# rod and a Bonito feathers fly, casting out to the edge of the bait ball with a quick retrieval.