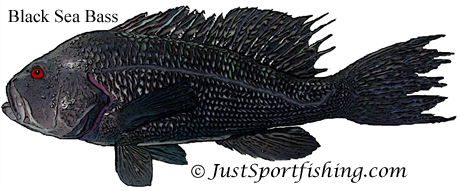 How to fish for Black Sea Bass
The Black Sea Bass is an extremely popular bottom fish. Partly due to the fact that Black Sea Bass are accessible to many fishermen, because they frequent near shore wrecks, reefs, rock piles, shell beds and various other structures. Also because they are usually around in good numbers and they fight very well on light tackle.
When fishing for Black Sea Bass jigging is the way to go. With a 6' to 7' long rod rated for 15 to 30 pound line (braided is best), and a baitcasting reel spooled with 20-pound line. Attach a three foot long, 30-pound test mono leader, joining it to the braid line with a size 7 Swivel. Try tying on a Bucktail in chartreuse and pink shad colors. If Bucktails aren't producing try a #2 bait-holder hook with a squid or strip of baitfish.
When in the water bucktails appear like a squid or small baitfish, we lowered them to the bottom and then danced them a few feet on and off the ocean floor. The squid and baitfish strips not only provided each jig with a "fluttering" action, but they also emitted scent, an advantage over the bucktails when targeting black sea bass.