---
Donate to JustSportfishing.com and help to build the largest fishing information site on the web. Even a dollar or two will keep us building this free site.
---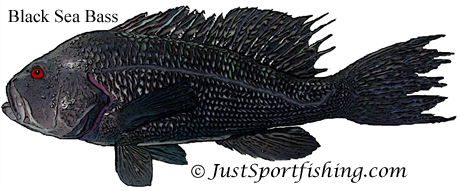 Black Sea Bass
World Record ~ 10 Lbs 4 oz. Caught at Virginia Beach, VA Jan. 1, 2000 It was caught by angler Allan P. Paschall
Scientific name ~ Centropristis Striata
Other names ~ Blackfish, Sea bass, Black Bass, Rockbass, Common Sea Bass
Identification ~ The Black Sea Bass has a body that is three times as long as it is wide. It has a high back, flat topped head, and slightly pointed snout. The body color ranges from black to gray, but can also be brownish gray. The mouth is large and the lower jaw is protruding. The top ray of the tail sticks out past the rest of the tail. There is a single dorsal fin and the first 10 rays are spiny. Black sea bass are protogynous hermaphrodites, meaning that they change sex from female to male. Born as females, most fish will change sex to males between ages 2 to 5 years.
Size ~ Black Sea Bass can grow to 2 feet but average 6 to 17 inches. The average catch by anglers is 1 to 3 Lbs but Black Sea Bass up to 8 Lbs are caught. The world record is over 10 Lbs. Black Sea Bass can live for 10 years.
Habitat ~ The Black Sea Bass is bottom dwelling. They can be found around wrecks, reefs, piers, breakwaters, quays, and beds of shells. They most commonly range in water depths of 10 feet to 150 feet. Black sea bass are distributed in the Northwest Atlantic from Maine to Florida.
Feeding Habits ~ Black Sea Bass are opportunistic feeders, eating whatever is available. Crabs, shrimps, worms, clams, and small fishes constitute the Black Sea Bass diet.