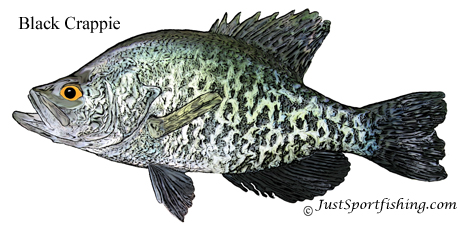 How to fish for Black Crappie
Because of the diverse Black Crappie diet, crappie may be caught in many ways, including casting light jigs, trolling with minnows or artificial lures, using small spinnerbaits, or using bobbers. Crappies are also popular with ice-fishers, as they are active in winter. The black crappie has been widely transplanted and existed in all of the lower 48 states, Mexico, and parts of Canada. The black crappie tends to prefer clearer water and can be found in lakes, ponds, streams, sloughs, and creeks. They prefer little current, open areas adjacent to cover, and access to deeper water in winter and summer. The Black Crappie feeds mostly in the early morning and just before dark.
Most Black Crappie are under 2 pounds so ultra light tackle is the gear of choice. A 5 to 6 foot graphite ultra light spinning rod with a matching reel that is spooled with 2 to 4 pound test will provide good action for these fish. Fishing lures that have been productive for Black Crappie are crank baits such as the Norman lures crappie crank in colors blue/chartreuse, bumble bee, silver/blue. These crank baits run to a depth of 6 feet and are 1-1/2 inches long and are 1/8 oz. with #10 hook. Road runner jig heads, Uncle BucksŪ Crappie Spinner (fished in short jerks), Marabou Road RunnerŪ Jigs, Bass Pro ShopsŪ Crappie Ringers are all productive lures for Black Crappie. When lures aren't getting bites try bait balls such as Magic Bait Crappie Bites.