---
Donate to JustSportfishing.com and help to build the largest fishing information site on the web. Even a dollar or two will keep us building this free site.
---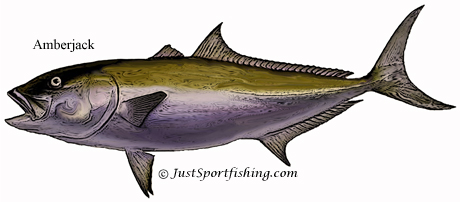 Amberjack
World Record ~ 155 Lbs 12 oz It was caught at Challenger Bank, in Bermuda Aug. 16, 1992. Larry Trott was the fisherman
Scientific name ~ Seriola Dumerili
Other names ~ Greater Amberjack , jack, horse eye jack, Allied Kingfish, Jack Hammer, Kahala
Identification ~ The Greater Amberjack is the largest of all jacks. The amberjack is greenish blue to almost purple or brown above the lateral line and silver below the lateral line. The Greater Amberjack has a dark olive brown band that runs across both eyes, starting at the mouth and extending to the first dorsal fin. The fins may have a yellow cast. An amber stripe runs along both sides. The greater Amberjack has a short foredorsal fin. The head is bluntly pointed.
Size ~ Most Greater Amberjack caught by sport fishermen are in the 15 Lb range but fish that are 40 Lbs are common. The Greater Amberjack can reach a weight of well over 100 Lbs with the world tackle record being just over 155 Lbs. The Amberjack can grow to a length of over 5 feet. The greater Amberjack often is found in schools but can be a solitary fish. In the Atlantic spawning occurs from March through June. During the spawning season look for Amberjack around reefs and sunken wrecks.
Habitat ~ Greater Amberjack are mostly located in offshore waters at deeper depths. They can congregate around large objects such as oil rigs, wrecks, buoys, and reefs.Amberjack are mostly found in the depths between 60 feet and 240 feet. The Greater Amberjack is mostly targeted by sport fishermen in Hawaii, Florida, and the Caribbean.
Feeding Habits ~ The Greater Amberjack's diet consists of fish, crabs, and squid.